Anne Arundel County DUI Lawyer
Maryland's DUI laws are among the most relentless in the United States - and if you are facing a DUI charge in Anne Arundel County, Maryland, getting an excellent and experienced local DUI lawyer as soon as possible is absolutely crucial.
Are you nervous and scared about your DUI charge, and are you unsure about the steps you need to take next? Unless you have excellent legal representation, DUI cases in can end in severe penalties. You might not only face a hefty fine and risk having your driver's license suspended or revoked, but DUI charges in can also result in jail time of up to a year for a first offense.
The Anne Arundel County DUI attorneys at FrizWoods Criminal Defense fight for you every step of the way. We are deeply familiar with the court system in Anne Arundel County and will build the best possible defense strategy for your DUI case.
As you face a DUI charge in Anne Arundel County, Maryland, our experienced DUI attorneys can negotiate with the prosecution to reduce the penalties or even to help you avoid a DUI conviction altogether. We can help with cases involving a breath test, a refusal, or even a blood sample. Don't hire an attorney who is going to believe every word the police officer placed in his report, hire a dui trial lawyer who will fight your charges.
How Does Anne Arundel County Treat DUI Cases? Could You Go to Jail?
DUI cases are treated extremely seriously in Anne Arundel County, considering that Maryland has strict DUI laws. Your DUI or DWI case will be taken to trial within four to eight weeks. The maximum penalty for a first-time DUI offense in is a year in jail. You'll want someone who knows criminal law in-and-out, not someone who freelances as a legal professional.
First offenders are often able to avoid a jail sentence - but to secure the most favorable outcome possible, it is absolutely critical to choose an experienced local DUI attorney who is familiar with the local court system and judges.
Even if you have a second offense or third offense dui, we can help with subsequent offender dui cases as well.
What DUI or DWI charges could I receive?
You could be facing one of five different DUI charges in Anne Arundel County, under Section 21-902 of the Transportation article of the Maryland Code:
Driving under the influence of alcohol perse (for cases involving a breath test)
Driving under the influence of alcohol
Driving while impaired by alcohol
Driving while too far impaired by drugs and/or alcohol
Driving while under the influence of a controlled dangerous substance
Being involved in a motor vehicle accident while under the influence, having higher readings on your breathalyzer test, and having prior DUI convictions in Maryland, or elsewhere are all factors that increase your risk of incarceration.
After a DUI Arrest in Anne Arundel County: What Should You Do Next?
After a first-time DUI or first time dwi arrest, you will usually be released on your own recognizance. You'll get a court date - and it's vital to get yourself an experienced criminal defense attorney before you appear in District court, in Annapolis or Glen Bernie.
Facing DUI Charges in Anne Arundel County: What Can FrizWoods Criminal Defense Do For You?
Schedule a DUI consultation with one of our qualified and skilled criminal defense lawyers, and FrizWoods Criminal Defense can:
Walk you through the DUI process in Maryland's criminal justice system so that you know what to expect.
Design a defense strategy that takes mitigating circumstances into account and helps you achieve the best outcome possible for your DUI case in Anne Arundel County.
3/ Negotiate with prosecutors to reduce your penalties or avoid conviction entirely, with the help of a Probation before Judgment (PBJ).
How to earn a PBJ
To qualify for this Maryland-specific disposition, drivers facing DUI charges will have to take the appropriate steps themselves, as well. These include enrolling in substance abuse treatment and ignition interlock, doing community service, and being an upstanding citizen prior to trial.
DUI/DWI Specialists
FrizWoods brings together two of the best Maryland DUI Attorneys, Max Frizalone and Luke Woods.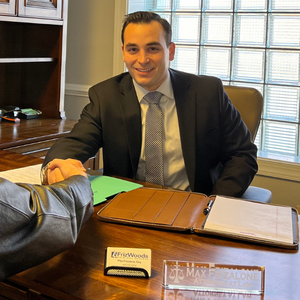 Max Frizalone has built a solid reputation as a DUI specialist having tried cases in nearly every jurisdiction in the State of Maryland. Max has secured acquittals both by jury and by Judge in numerous counties as both a private attorney and during his tenure as a Public Defender. Max Frizalone understands the intricacies of DUI cases, and defends every client with the same tenacity he brings to each consultation. Max is a former Assistant States Attorney with Prince George's County. Max possesses the unique ability as a Maryland DUI lawyer to identify strong legal defenses that may exist within a case, which many times result in a reduction or dismissal of charges. Max Frizalone has handled allegations of driving under the influence of alcohol, driving under the influence of drugs, and vehicular manslaughter resulting from driving under the influence. Max is unafraid of taking a case to a jury trial trial, which has earned him the respect of numerous States Attorney's Offices, and judges alike.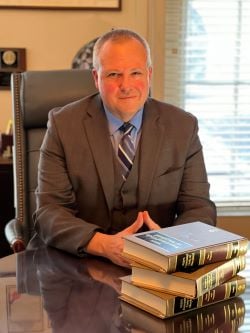 Luke Woods is a veteran trial attorney with over two decades of purely criminal defense experience. Luke held numerous roles in the Army Judge Advocate General's Corps (Army JAGS), and thereafter served as a District Public Defender for Calvert County for over a decade. Luke has tried hundreds of criminal traffic offenses, including countless DUI cases. Luke practices in both Circuit Court and District Courts across Maryland and is a locally recognized authority on DUI defense. Luke has secured not guilty verdicts, acquittals, and dismissals for a wide array of cases to include DUI cases in jury trials and bench trials. Luke is a highly experienced Maryland DUI lawyer and Maryland criminal defense lawyer, call today and speak with him directly. Just like his law partner Max, Luke is well versed in the ins and outs of DUI defense, and is able to identify and analyze legal and factual defenses early on in a case.
Every DUI case is unique, some involve breath test refusals, others involve dui accidents. The excellent DUI attorneys from FrizWoods Criminal Defense recognize this fact, and will advise and guide you through the entire DUI process in with the aim of securing a minimum penalty.
What's going to happen to my license?
DUI and DWI convictions carry serious licensing penalties, including a possible license suspension. The Maryland Motor Vehicle Administration controls license suspensions relating to DUI and DWI breath tests, and DUI and DWI convictions. you may need to participate in ignition interlock as a result of a DUI or DWI charge. Maryland DWI and Maryland DUI licensing penalties are shown in the chart below: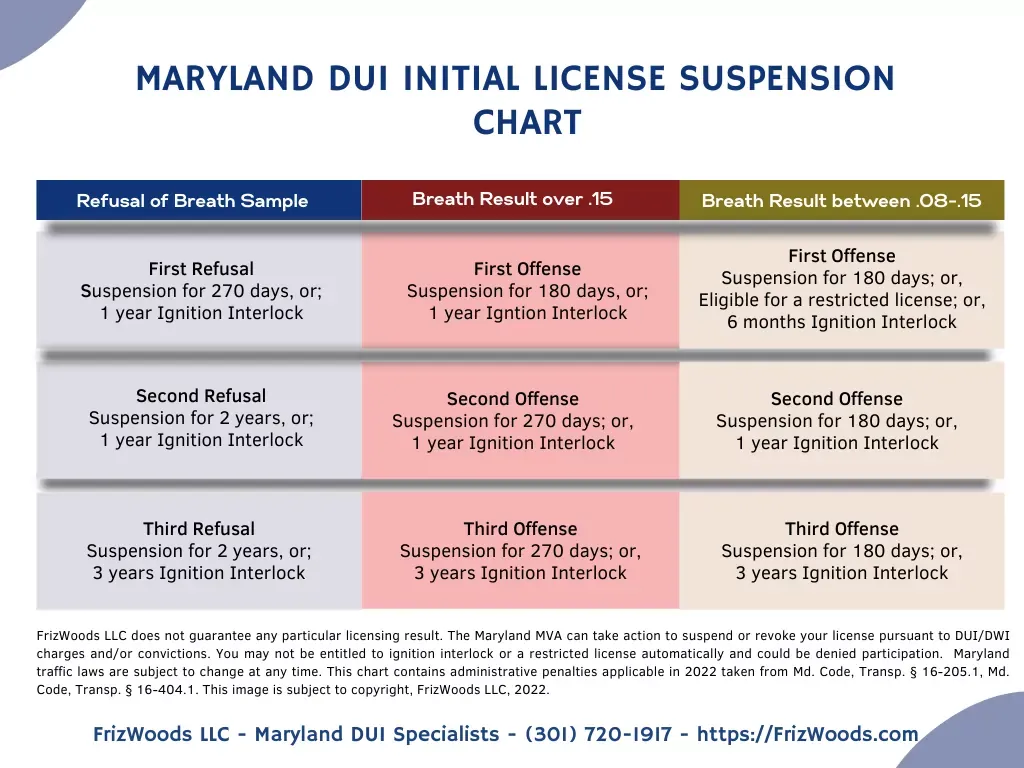 Contact us now.
Facing a DUI charge in Anne Arundel County may be the scariest thing you have ever experienced. Understanding the gravity of the charges, you will be aware that hiring a skilled local DUI attorney is the only way forward. Our firm offers free consultations 24/7 - call our attorney-client line now to discuss your case regarding Anne Arundel county driving. All of our calls are confidential - regardless of what sensitive information is discussed. Visit us at our Severna Park office, to speak with a DUI lawyer today.