Maryland DUI Lawyer - Driving while under the influence and Driving While Impaired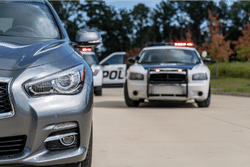 If you are charged with a Driving Under the Influence ("DUI") or Driving While Impaired ("DWI") charge, the most important thing you can do is consult with one of the experienced DUI attorneys at FrizWoods LLC. Jurisdictions throughout Maryland take DUI cases seriously, and you should too. Consulting with a seasoned litigator will ensure that you address both potential legal defenses, and take proper steps ahead of Court to avoid harsh punishment on the day of your trial.
Both Max Frizalone and Luke Woods, specialize in taking driving under the influence cases to trial. We have secured not guilty verdicts in jury trials, bench trials, and through suppression of evidence for our clients. We have experience with DUI cases involving refusal of breath tests and DUI cases involving accidents.
DUI/DWI Specialists
FrizWoods brings together two of the best Maryland DUI Attorneys, Max Frizalone and Luke Woods.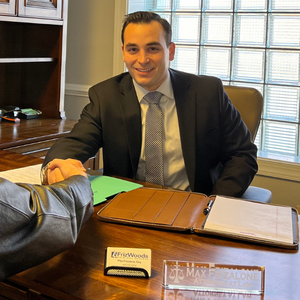 Max Frizalone has built a solid reputation as a DUI specialist having tried cases in nearly every jurisdiction in the State of Maryland. Max has secured acquittals both by jury and by Judge in numerous counties as both a private attorney and during his tenure as a Public Defender. Max Frizalone understands the intricacies of DUI cases, and defends every client with the same tenacity he brings to each consultation. Max is a former Assistant States Attorney with Prince George's County. Max possesses the unique ability as a Maryland DUI lawyer to identify strong legal defenses that may exist within a case, which many times result in a reduction or dismissal of charges. Max Frizalone has handled allegations of driving under the influence of alcohol, driving under the influence of drugs, and vehicular manslaughter resulting from driving under the influence. Max is unafraid of taking a case to a jury trial, which has earned him the respect of numerous States Attorney's Offices, and judges alike.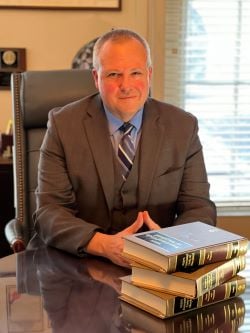 Luke Woods is a veteran trial attorney with over two decades of purely criminal defense experience. Luke held numerous roles in the Army Judge Advocate General's Corps (Army JAGS), and thereafter served as a District Public Defender for Calvert County for over a decade. Luke has tried hundreds of criminal traffic offenses, including countless DUI cases. Luke practices in both Circuit Court and District Courts across Maryland and is a locally recognized authority on DUI defense. Luke has secured not guilty verdicts, acquittals, and dismissals for a wide array of cases to include DUI cases in jury trials and bench trials. Luke is a highly experienced Maryland DUI lawyer and Maryland criminal defense lawyer, call today and speak with him directly. Just like his law partner Max, Luke is well versed in the ins and outs of DUI defense, and is able to identify and analyze legal and factual defenses early on in a case.
Our representation will address the major issues you could face if charged with a drunk driving offense. Each DUI case presents two major hurdles for a person who is charged, 1. criminal charges 2. effects on licensing.
What type of criminal charges could I receive?
There are five major DUI/DWI charges in Maryland contained within Section 21-902 of the Transportation article of the Maryland Code:
Driving under the influence of alcohol perse
Driving under the influence of alcohol
Driving while impaired by alcohol
Driving while too far impaired by drugs and/or alcohol
Driving while under the influence of a controlled dangerous substance
Could I be going to jail?
If you don't take your drunk driving case seriously, a Judge could consider jail time on your dui or dwi charges if you were convicted, this is especially true for subsequent duis. This is why it is of the utmost importance that you speak with a qualified DUI lawyer who knows the criminal justice system. Generally, Judges first time offenders can avoid incarceration by taking proper steps and following the advice of their dui defense lawyer.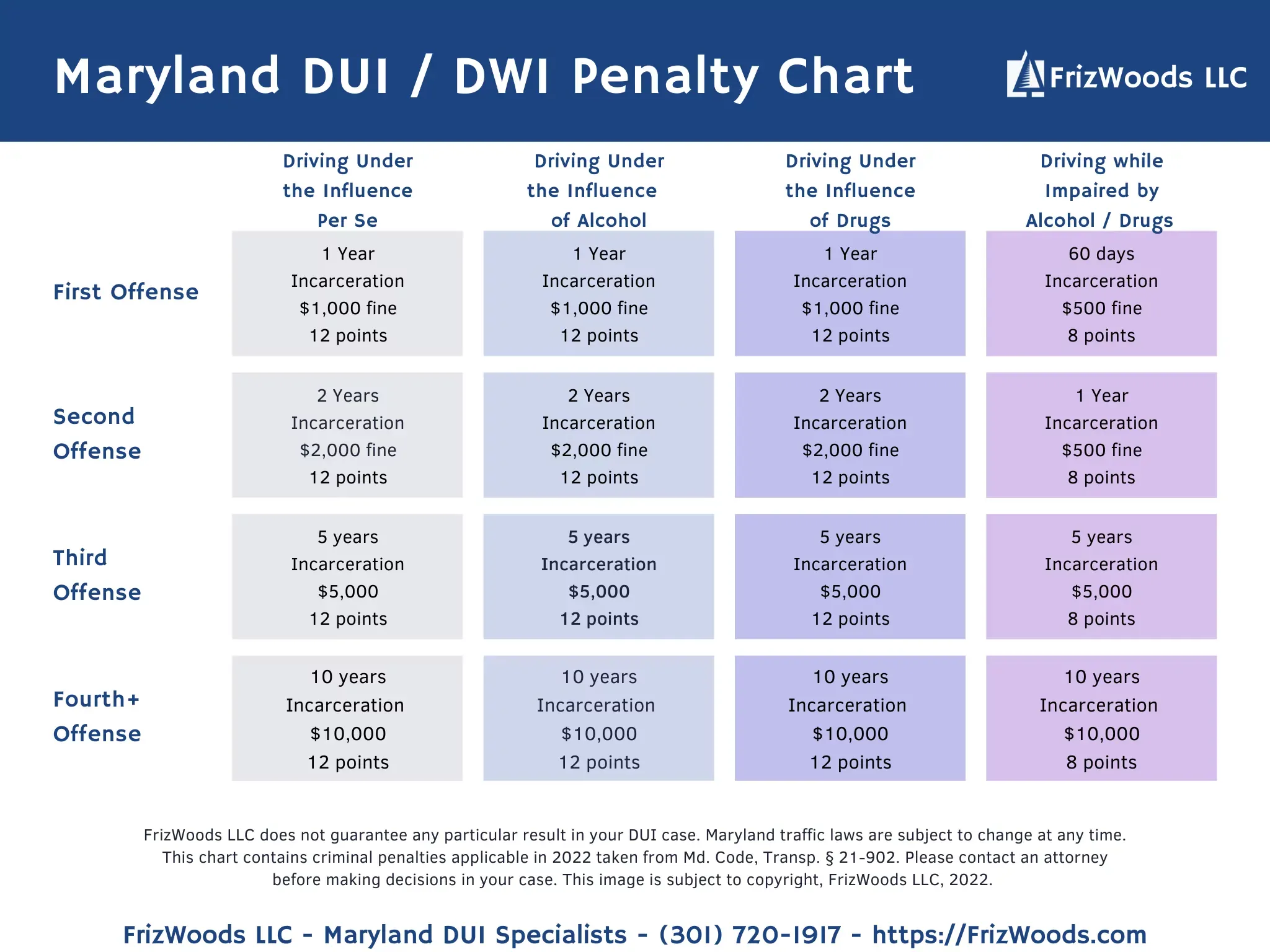 Your potential for incarceration could be based on the following aggravating factors:
What is going to happen to my license?
Licensing is handled by Maryland's Motor Vehicle Administration, ("MVA"). If you were charged with a DWI offense and had a valid Maryland State License at the time of your arrest, you were likely issued a temporary paper copy of your license that will be valid the next 45 days. Within that 10 days of your DUI arrest it is essential that you contact a qualified DUI lawyer to analyze what potential licensing ramifications you could be facing. We can analyze your driving record, and will keep this confidential or sensitive information private. You are entitled to request a MVA hearing within 10 days of the confiscation of your license, so time is of the essence. If you produced a breath sample, you can expect the following framework to apply for a first dui: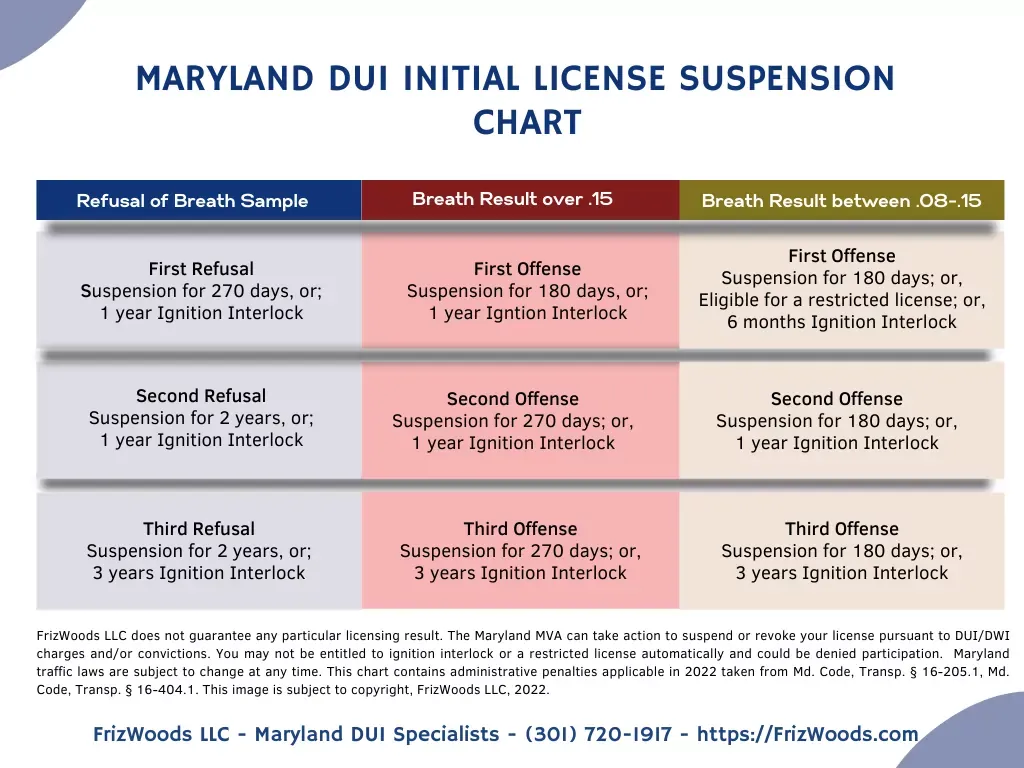 Under .08 - No suspension you passed the test
Between .08 - .14 - May be eligible for a work restricted license after a MVA hearing
Over .15 - Mandatory ignition interlock
If you refused a breath sample, mandatory ignition interlock will apply, or you will receive a 270 day suspension for a first offense or 2 years for a second.
How will a DUI charge affect my Driving Privileges
The Maryland Motor Vehicle Administration oversees the potential administrative penalties you may have from receiving a DUI charge. The potential administrative penalties you could face are based on a number of factors specific to your case. These factors could include:
If submitted to an intoximeter breath sample or blood sample;
What the result of that sample was;
If you refused a breath/blood sample;
If there was an allegation of driving under the influence of a controlled dangerous substance;
If you receive points on your license from a conviction;
Prior DUI charges/convictions/breath tests.
How should I prepare for my case?
The most important thing you can do ahead of your trial on a driving under the influence charge is to consult an attorney and create an individualized defense strategy. An attorney will help you prepare for the charges by anticipating applicable MVA administrative penalties, directing you towards an appropriate treatment provider, and giving you an idea of what type of potential penalty to expect. Avoiding a DUI conviction is possible if we are able to help you receive a Probation before judgment, or PBJ
I've been charged with my first DUI, what do I do?

Read our first time DUI frequently asked questions article, or five steps you should take after getting a DUI in Maryland
Building a Defense
The first step in defending a DUI case is to build a defense with an experienced Maryland DUI Lawyer that addresses potential issues that could be present in your case. Some common examples include:
Frequently Asked Questions
Below are some frequently asked questions that potential clients often ask criminal defense attorneys before scheduling a consultation.
Do I need an Attorney for DUI Charge?
You are not required by law to hire an attorney to represent you in your DUI or DWI case. However, as explained below, attempting to handle your criminal case alone is a big mistake. In fact, defendants who represent themselves fare far worse than those who are represented by experienced counsel. The reason for this is simple: the law is extremely complicated, and it requires years of experience to develop the ability to successfully navigate the criminal justice system. When you hire an attorney to handle your case, your odds of a successful outcome improve drastically.
How Can a Maryland DUI Lawyer Help Me?
If you are convicted of DUI or DWI in Maryland, you face steep penalties, including hefty fines and incarceration. Unfortunately, prosecutors are often highly motivated to turn DUI and DWI charges into convictions. Unless you have years of legal experience, your odds of obtaining a successful result in your case are slim. With an experienced Maryland criminal defense lawyer on your side, however, your odds of success increase drastically. When you hire an attorney to represent you, he will aggressively fight your DUI or DWI charge, assert all available defenses, and ensure that your rights remain protected as your case proceeds through the legal process. Below are just a few of the ways that a Maryland attorney can help you with your DUI or DWI charge:
Negotiate with prosecutors: Attorneys often have years of experience working with prosecutors in their area. Using this experience, criminal defense lawyers are routinely able to negotiate to obtain favorable plea bargains that reduce or eliminate their client's charges and keep them out of jail. When you hire an attorney to represent you, you reap the benefits of your attorney's negotiation skills and familiarity with local prosecutors.

Meet all deadlines for legal filings: The failure to file requests for certain types of evidence and to file other legal motions in a timely manner can drastically reduce your odds of a successful outcome in your criminal case. And with everything you must deal with as a defendant, it can be difficult to keep up with the deadlines in your case-especially if you lack a legal background. However, with a skilled DUI attorney on your side, you can rest assured that all legal filings in your case will be handled in a timely manner, thereby increasing your odds of a successful outcome.

Use his knowledge of the local courts to your advantage: A deep knowledge of the local court system can be a great advantage to you as a criminal defendant. However, unless you have a legal background, you are unlikely to have such knowledge. When you enlist the services of an experienced criminal defense attorney, however, he will use his knowledge of the local courts to your advantage, doing everything possible to ensure that your charges are reduced or dropped.

Protect your rights: As a defendant, it is imperative that you have a full understanding of your rights-especially your right to remain silent. Your DUI lawyer will advise you of when it is advisable to share information with the prosecution-and when you should keep quiet. In addition, your attorney will work hard to ensure that all your other rights are protected as your case progresses through the legal system.
What to Look for in a Maryland DUI Lawyer
When looking for legal representation in your Maryland criminal case, not just any attorney will do. Rather, the lawyer you choose to represent you must meet specific criteria for you to have the best chance of success in your Maryland DUI or DWI case. So, when choosing a criminal defense lawyer to represent you, you should do the following:
Choose an attorney who focuses primarily on criminal defense law: First, the attorney you choose should devote a significant percentage of his practice to defending clients against criminal charges. Criminal and civil law are very different, so your attorney should have vast experience in the area of criminal defense law in order to give you the best chance at success. So, for example, when facing criminal charges, you shouldn't hire an attorney who specializes in civil litigation or estate planning to represent you.

Choose a lawyer with vast DUI and DWI experience: Not only should your attorney devote a significant amount of his practice to criminal defense law, but he should have substantial experience defending clients against DUI and DWI charges. Successfully defending these types of charges requires years of experience and specialized knowledge, so you must ensure that your attorney is a seasoned DUI and DWI defense veteran.

Choose an attorney with a track record of success: Finally, the attorney you select should have a track record of successfully defending clients against DUI and DWI charges in Maryland. Although an attorney can't guarantee a particular result in your case, a long track record of success is always a great sign that you've found the right person to handle your case. If you're looking for a dui lawyer near me, make sure you're also searching for someone who specializes in DUI Law. For example, instead try searching for "columbia drunk driver attorneys" for a columbia DUI case, or Baltimore dui lawyer, for a Baltimore County drunk driving case.
Choosing a DUI Attorney: Questions to Ask
To ensure that you choose an attorney who meets the above criteria, you must ask the right questions. By asking good questions, you should be able to obtain all the information you need to make an informed decision regarding your representation. Below are some questions you should ask your prospective attorney during your initial consultation:
Do you specialize in criminal defense law and drunk driving defense?

Do you have experience handling DUI and DWI cases?

How many DUI and DWI cases have you defended in the last year?

What percentage of your DUI and DWI cases go to trial?

In your past cases, have you been able to get DUI or DWI charges dropped or reduced to a lesser offense?

What is your assessment of my case?

Will you be handling my case, or will the case be assigned to a junior attorney or paralegal?

What is your fee structure?

Do you offer payment plans for your services?
Locations we serve and Practice Areas
Our Criminal defense attorneys work across the state on DUI cases, and provide free consultations to clients 24/7. Our practice spans the State, from Montgomery County, to Anne Arundel county, through Prince George's County and Howard County. IF you're looking for a columbia dui attorney, or a columbia dui attorney, then you've reached the right practice.
We can help with a wide array of criminal offenses and help you avoid a conviction. We don't just specialize in Maryland DUI law, we can help with felony cases and assault cases as well.
Contact our DUI lawyers today.
Free Consultation
Locations