Max G. Frizalone - Partner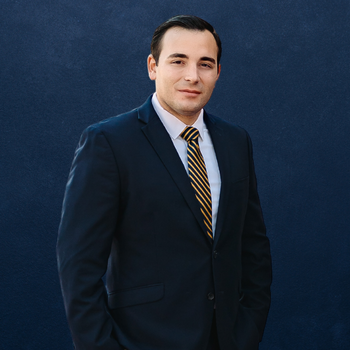 Max is a trial focused attorney with experience trying numerous cases in both Circuit and District Court as both a defense attorney and a prosecutor. Max earned his Juris Doctorate from the University of Miami School of Law with a focus in litigation. Max began his legal career in Miami, Florida, where he defended clients in felony and misdemeanor cases ranging from drug distribution, sex offenses, DUI cases, and juvenile matters. Max moved to Maryland to continue to develop his trial skills with the Maryland Office of the Public Defender, where he represented hundreds of clients in both District and Circuit court.
During his tenure as a public defender Max tried countless cases including DUI, drug possession, domestic violence cases, and handgun offenses. Max developed an expansive knowledge of traffic offenses and is very familiar with the legal requirements and defenses to driving under the influence cases. Max specializes in this area of law and has earned acquittals on a wide variety of grounds, including suppressed stops, lacking probable cause for arrests, police failure to qualify as experts, and verdicts based on lacking evidence. Max was highly regarded by his clients and the bench as a fierce advocate who was unafraid to force the State to meet their burden of proving the cases they had charged, often resulting in acquittal or dismissal of charges.
After leaving the Public Defender's Office, Max joined the Prince George's County State's Attorney's Office and quickly became a senior trial attorney within the Juvenile unit. Max successfully prosecuted a wide array of violent felony offenses to include attempted murder, armed carjacking, armed robbery, multiple offense string cases, and other crimes of violence. Max handled these matters from initial investigation and indictment through trial. Max learned the ins-and-outs of police investigative practices, and was often consulted for advice regarding charging, trial strategy, and search warrants.
After leaving the Prince George's County State's Attorney's Office, Max joined Luke Woods at Albers and Associates. Max and Luke successfully defended countless clients in a wide array of charges across the State of Maryland in both bench and jury trials.
In January of 2022 Max formed FrizWoods LLC to put his extensive litigation skills to work and provide tailored advice to clients regarding their criminal matters. Max's litigation focus has propelled his career into private practice where he specializes in both bench and jury trials.
Max Frizalone is a compassionate lawyer who has dedicated his career to protecting the rights of individuals charged with criminal offenses. With years of experience and a deep understanding of the criminal justice system, Max is equipped to provide the aggressive, results-driven representation that his clients need.
Max understands that being charged with a crime can be a confusing and stressful experience, and he is dedicated to providing his clients with the guidance and support they need throughout the legal process. He takes the time to listen to his clients' concerns, to explain the charges against them, and to outline the potential consequences of a conviction. With his in-depth knowledge of the law and the court system, Max can help his clients make informed decisions about their case and work to protect their rights.
Max is a skilled litigator who is not afraid to fight for his clients in court. He knows how to challenge the evidence against his clients, to negotiate with prosecutors, and to negotiate favorable plea bargains. In addition to his legal expertise, Max is a compassionate and understanding attorney who is committed to helping his clients through a difficult time. He is accessible, responsive, and always available to answer questions and provide support. Whether in the courtroom or at the negotiating table, Max will always put his clients' best interests first, and he will fight tirelessly to protect their rights.
If you or a loved one has been charged with a crime, Max is the attorney you can trust to provide the aggressive, effective representation you need. Contact him today to schedule a consultation and to learn more about how he can help.
Bar Admissions
Education

University of Miami School of Law, Juris Doctorate
University of Miami, Bachelor of Arts & Sciences
Free Consultation
Locations