Maryland Gun Charge Lawyer | Learn gun charges law from a Maryland Gun Lawyer
Maryland can have very confusing gun laws, which often leaves citizens and visitors in the State of Maryland confused about their ability to purchase, carry, or transport firearms. Generally speaking, Maryland's handgun laws are where most criminal gun charges arise from because handguns are treated most harshly under Maryland's two major gun charge statutes. Firearm charges aren't simple, so an attorney is needed to explain what you may be charged with.
Common Maryland Gun Charges
Many unknowing visitors in Maryland possess carry licenses in Virginia, or the District of Columbia, and are unaware that Maryland has VERY strict handgun transportation laws. Often drivers who are passing through the State do not realize that thei are illegally carrying a handgun on roadways, and are charged as a criminal with a gun offense, meanwhile they are legally permitted to carry in other places. Maryland's gun laws aren't always clear and differ greatly from the surrounding states like PA and VA. Persons in the Armed Forces, and upstanding citizens can even be charged with Maryland Gun charges related to handguns in their vehicles. This is where having the right Maryland gun Lawyer becomes essential to protecting your right to carry, and defending you in the criminal justice system.
Maryland has two major weapons charges statutes, both of which can land you in jail if you are not represented by a competent Maryland gun lawyer.
Gun Charges for transporting handguns | CR 4-203
Criminal charges for Wearing, Carrying, or Transporting a handgun in Maryland are some of the most common gun crimes charged. For example, within this statute are the criminal offenses of:
Handgun on person
Handgun in vehicle
Loaded handgun on person
Loaded handgun in vehicle
Each of these charges is a misdemeanor, and carries a first time maximum penalty of 5 years of incarceration. Legal representation in these cases is especially important, as a Maryland gun lawyer can explain which charges you may at highest risk for.
These offenses are not considered violent crimes under Maryland Criminal code. These charges are frequently brough by a law enforcement officer who confiscates a handgun from a vehicle and brings gun charges against a person.
How can you beat a gun charge in Maryland
To beat a maryland gun charge you'll need to formulate a defense with your attorney. Common defenses include operability of the firearm or illegality of the stop and/or search when the gun was found. Often these cases turn on legal defenses, which require specialized knowledge of the law.
Illegal Gun & Weapon Possession | PS 5-133
In addition to the criminal charges for wearing, carrying, and possessing a firearm, Maryland has criminal penalties associated with Public Safety Article 5-133, Restrictions on Possession of Regulated firearms. The statute lays out a number of different reasons a person can be disqualified from possessing a firearm, some of which include:
Previous conviction for a disqualifying crime.
Conviction of a common law crime and imprisonment for over two years
Being a fugitive from justice
Being a habitual drunkard
Being a habitual user of drugs
Being under 21 years old at the time of possession
Being previously convicted of a felony
Being previously convicted of a crime of violence (Not what you'd expect)
Most public safety article firearm charges are misdemeanors, with the exception of firearm possession by a felon
What are the penalties for giving a felon a firearm?
The penalty is substantially higher for someone who has a prior felony or crime of violence conviction and is in possession of a firearm. A mandatory five year prison sentence would be imposed, without the possibility of parole. The possible sentence can go up to fifteen years if a person is convicted.
What is a crime of violence for 5-133(c) charges?
For the purposes of this section, a crime of violence includes:
abduction;
*arson in the first degree;
*assault in the first or second degree;
*burglary in the first, second, or third degree;
*carjacking and armed carjacking;
*escape in the first degree;
*kidnapping;
*voluntary manslaughter;
maiming as previously proscribed under former Article 27, 386 of the Code;
mayhem as previously proscribed under former Article 27, 384 of the Code;
murder in the first or second degree;
rape in the first or second degree;
robbery;
robbery with a dangerous weapon;
sexual offense in the first, second, or third degree;
home invasion under 6-202(b) of the Criminal Law Article;
a felony offense under Title 3, Subtitle 11 of the Criminal Law Article;
an attempt to commit any of the crimes listed in items (1) through (17) of this subsection; or
assault with intent to commit any of the crimes listed in items (1) through (17) of this subsection or a crime punishable by imprisonment for more than 1 year.
A SECOND DEGREE ASSAULT CONVICTION WOULD BE CONSIDERED A CRIME OF VIOLENCE DESPITE THE FACT THAT IT IS A MISDEMEANOR
A maryland gun attorney is going to be essential in a felon in possession case, as the criminal justice system has imposed significant mandatory minimum jail sentences. These gun charges are no joke.
Frequently asked questions for a Maryland Gun Lawyer
What should I do if charged with a handgun offense?
If you are charged with a handgun crime, you should speak with a qualified attorney right away. Attorney client priviledge would protect your conversation. An attorney can explain potential defenses that might apply in your case, and can give you an idea of what the potential penalties you could face are. An attorney can evaluate the charges brought against you in advance of trial, and help to generate a trial strategy to win your case.
Gun crimes are treated seriously throughout the State, avoiding jail time may depend on your lawyer's ability to defend the case. Our law offices are situated throughout the State, where a criminal defense attorney can meet with you in a free consultation. Maryland Gun cases are serious matters, and having a lawyer who knows the Maryland Criminal code is essential to defending you.
Who should I choose as my Maryland Gun Lawyer?
Maryland is full of attorneys who bill themselves as "criminal defense attorneys" who also spend part of their day analyzing car accident cases. Both Luke Woods and Max Frizalone specialize in criminal defense, and each of them has earned not guilty verdicts on felony charges. Maryland Gun Lawyer Luke Woods and Max Frizalone have experience picking juries and trying felony cases before Judges and Juries alike. Choosing the wrong attorney to bring to trial can mean the difference between freedom and a long period of incarceration. Call us today for a free consultation.
Who are the defense attorneys with FrizWoods for gun charges?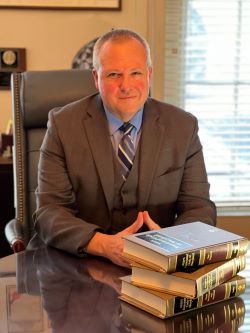 Luke Woods is a veteran trial attorney with over two decades of purely criminal defense experience. Luke has experience defending clients in felony cases of all varieties. Luke has earned acquittals, dismissals, and not guilty jury verdicts on countless felony cases during his career as a private attorney. Luke will leverage his knowledge of felony cases to ensure your case is dismissed before indictment. The most important thing you can do if charged with a felony is call hire experienced legal counsel like Luke Woods who knows the ins and outs of the criminal justice system. Luke has a wealth of experience in handgun cases, and regularly litigates them in Circuit and District Court. Call today and speak with him directly for a free case analysis.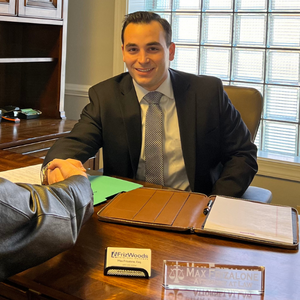 Max Frizalone accrued felony trial experience in his prior roles as a prosecutor, public defender, and private attorney. Max has defended felony cases in Circuit Courts throughout Maryland. Max and Luke have worked together to have high profile cases dismissed in the past, including a first degree rape. Max has experience with both misdemeanor and felony handgun cases in Maryland as both a former Assistant States attorney, or Prosecutor and private attorney. Max is unafraid of taking a case to trial, which has earned him the respect of numerous States Attorney's Offices, and judges alike. Max and Luke make a great team, having previously collaborated on charges to include first-degree murder.
Do I need a lawyer for a gun crime?
Absolutely. Gun crimes are serious offenses, often carrying significant legal consequences. If you're charged with a gun-related crime, it's essential to have legal representation to ensure that your rights are protected, and you are given a fair trial. A lawyer can provide guidance on the complexities of the law, evaluate the evidence against you, and present a defense strategy tailored to your specific situation. Even if you believe you haven't committed a crime or feel the charges are minor, it's always advisable to consult with a legal expert to understand the potential repercussions and navigate the legal system.
Does my out of State gun permit allow me to carry in Maryland?
Maryland does not honor concealed carry permits from any other state, meaning an out-of-state permit does not allow you to carry in Maryland. If you wish to carry a handgun in Maryland, you must obtain a Maryland Handgun Wear and Carry Permit.
It's important to be very cautious about this, as carrying a weapon without the appropriate license in Maryland can lead to serious legal consequences. If you're traveling or relocating to Maryland and have questions about your firearm rights or responsibilities, it's advisable to consult with a legal expert familiar with Maryland's gun laws.
How many law offices does FrizWoods have?
FrizWoods has three office locations, one in Prince George's County, one in Howard County, and one in Anne Arundel County.
Want to speak directly with a Maryland Gun Lawyer who knows the Maryland Criminal Law Code? Give us a call today