Maryland Theft Attorney | MD Theft & Fraud Criminal Defense Lawyers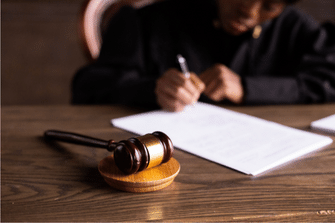 Being charged with a theft can have a major impact on a person's life. Theft charges in Maryland can be classified as either felonies or misdemeanors, depending on the value of the goods or services that were allegedly taken. A knowledgeable Maryland Theft Attorney will know exactly how to defend your case, and will be aware of the various defenses you may have in your case.
Maryland Theft Lawyer
Maryland's theft laws have evolved over the past two decades, with the general definition of theft covering a wide array of criminal offenses. District Courts maintain jurisdiction over most theft cases, even some felony charges of theft. Having the right attorney with you in Court can mean the difference between jail time, or outright dismissal of charges.
What are the different penalties for theft crimes?
Theft of less than $100 Misdemeanor punishable by up to 90 days of incarceration and a $500 fine

Theft of $100 to $1,500 Misdemeanor punishable by up to six months of incarceration and a $500 fine

Theft of $1,500 to $25,000 Felony punishable by up to 5 years of incarceration and a $10,000 fine

Theft of $25,000 to $100,000 Felony punishable by up to 10 years of incarceration and a $15,000 fine

Theft over $100,000 Felony punishable by 20 years of incarceration and a $25,000 fine
What is felony theft in maryland?
Felony theft in Maryland is the same as a misdemeanor theft; however, the value of the goods, services, or property allegedly taken must be over $1,500. The maximum punishment for felony theft in Maryland depends on the value of the goods taken. Between $1,500 and $25,000, felony theft carries a maximum of five years in prison. Between $25,000 and $100,000, felony theft carries up to 10 years of incarceration. Over $100,000, felony theft is punishable by twenty years in prison.
How can the State of Maryland prove a theft crime?
The Maryland Theft provisions give the State a wide variety of methods of proving theft including:
Obtaining control of property by concealment, deception, or use
Knowingly possessing stolen property
Taking possession of property known to be lost or delivered by mistake
Obtaining services by deception or without consent
Hire an experienced Maryland Criminal Defense Lawyer
Attorneys Luke Woods and Max Frizalone have each tried countless theft cases in District Courts across Maryland. Through zealous representation, Max and Luke have secured acquittals in the form of not guilty verdicts, and suppression of key evidence in theft cases.
Max and Luke have the specialized knowledge necessary to defend a wide array of variants of theft including bad checks, forgery, and vehicle theft. Additionally, Max and Luke can assist with charges of identity fraud, credit card theft, and other digital theft charges.
The right attorney might make all the difference in your Maryland Theft case.
Avoiding a theft conviction can be a hugely important thing for a person facing charges. A felony conviction in MD can have long standing consequnces on a person's employment and housing situation.
Types of theft cases - Property, Services, Motor Vehicle & more.
Maryland's Criminal Statutes have general theft provisions, and specialized charges for certain types of theft. An experienced criminal defense lawyer will know the differences between these charges. For example, outside of the general theft provisions there are charges for:
Newspaper Theft
Bad Checks
Embezzlement
Defalcation
Failure to Deliver Documents for Merchandise
Theft of Grocery carts
Misappropriation by Bailee
Theft or Duplication of State-Owned Keys
Failure to return a rental vehicle
Code Grabbing Devices
Unauthorized Access to Computers
Interference with Cable Television Service
Obtaining Telephone Records without Consent
Frequently Asked Questions about Theft Crimes in Maryland
What type of theft is shoplifting in Maryland?
Shoplifting is charged as general theft, where the type of theft is charged based on the value of the good that were taken in total. Most shoplifting cases fall into two general charges, Theft under $100 and Thft $100-$1500. If you're going to Court for a shoplifting charge, it's important to have an attorney.
What is the statute of limitations for Theft in Maryland?
The statute of limitations for a theft case will depend on the charges. For misdemeanors, the general statute of limitations is one year from the date of the alleged crime. For felonies, there is no prescribed statute of limitations. Speaking with a maryland theft lawyer is important to ascertain if the statute of limitations will prohibit an action against a Defendant.
How is theft different than Robbery in Maryland?
Many people confuse robbery, theft, and burglary. Robbery and Burglary are both crimes that involve an underlying theft. Generally speaking, the crime of Robbery involves the use of force to commit a theft, and the crime of burglary involes the breaking and entering into a home to commit a theft.
There are differing degrees of burglary, and both armed and unarmed robberies, so speaking with a maryland criminal defense attorney is always important.
Do I need a lawyer for my theft case?
If you're charged with a criminal case - it's important to bring a Maryland attorney to Court. Whether your case is in Ellicott City or Annapolis, any criminal charge carries the risk of jail.
Statutory Defenses to Theft Charges
Maryland theft defense in your case might include any of the following defenses:
Acting under a good faith claim of right to the property involved

Acted in the honest belief that a person had the right to obtain or exert control over the property

Spousal property unless the defendant and the defendant's spouse were not living together as husband and wife and were living in separate residences at the time of the alleged theft;

In a case of theft of a trade secret, a person who rightfully knew the trade secret.
Contact an attorney to avoid a theft conviction
We pride ourselves on being one of Maryland's most accessible law firms. Our 24 hour attorney line is always open, give us a call and be directly connected with Max Frizalone or Luke Woods. We are more than happy to give you a free consultation and case review with a theft defense attorney. Don't wait until the last minute to find the right attorney for your case. Call us or fill out one of our contact forms to request an appointment today.
Don't sleep on your rights - bring experienced attorneys to Court
When confronting charges in the area of criminal law, having a dedicated legal professional by your side is vital. This specialist offers the necessary guidance, staunch advocacy, and comprehensive legal assistance needed to navigate the complex and often intimidating legal landscape.
Understanding the seriousness of theft charges and the substantial impact they can have on one's life is crucial. Whether the charges are for shoplifting or auto theft, the ramifications can be severe and long-lasting. Penalties range from fines and community service to imprisonment, along with potential damage to one's personal and professional reputation.
The laws around theft are complex and encompass a wide range of actions from taking someone else's property without consent to fraud and embezzlement. A competent legal expert stays abreast of these laws and any changes to them to ensure they can provide the most effective defense strategies for their clients. They possess the knowledge to analyze case facts, interpret complex legal provisions, and use this information to develop a comprehensive defense strategy specific to the case at hand.
Exceptional legal representation involves not only legal knowledge and skills but also a commitment to defending your rights and upholding your best interests. This calls for a personalized approach to defense strategy and representation. Your legal ally helps you understand the charges against you, potential penalties, and the possible defense strategies.
This professional will work closely with you to gather all relevant information, not leaving any stone unturned in uncovering evidence to contest the charges. They can represent you during police interviews, court appearances, plea negotiations, and trials, always aiming for the most favorable outcome.
Understanding the importance of client-lawyer communication, they will keep you informed at every stage of the proceedings, explaining legal terms, clarifying uncertainties, and promptly and clearly answering your questions. They empathize with the stress and anxiety you may be experiencing and aim to alleviate these concerns through supportive counsel and assertive representation.
When it comes to choosing a legal representative for your Maryland theft defense, it's best to opt for an attorney with a proven track record, excellent client testimonials, and a reputation for aggressive and ethical representation. Your choice of attorney can significantly influence the outcome of your case. With a reliable legal ally, you'll have a trusted professional who will passionately fight for your rights and freedom.