Severna Park DUI Lawyer - Why the Best Matters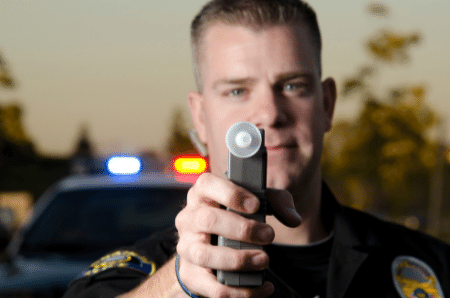 DUI charges can bring about many legal issues for people throughout Maryland, including in the Severna Park area. It's important to choose an attorney who has your best interest in mind.
Generally, you require will the best criminal defense to protect yourself from the prosecution by the State of Maryland. With the right lawyer, you might end up with your charges dropped. Drunk driving in Maryland is not treated as a joke, and the the attorneys at Frizwoods can assist with your case.
It is the job of our DUI/DWI lawyers serving Severna Park, MD, to get your driving privileges reinstated. Even with simple misdemeanor charges stemming from a DUI, a person without proper advice of an attorney could lose their priviledge to drive by simple inaction.
That's why it's important to seek aggressive representation from someone who has passed the Maryland Bar.
Our legal systems are in place to protect each of our clients from facing consequences. When you're facing criminal charges, contact us for a free consultation!
What Should You Do If You're Charged with a DUI in Anne Arundel County?
Drunk driving doesn't mean just getting a traffic ticket. DUI is treated as a criminal traffic offense, with the potential for jail.
Criminal convictions can change your life completely. You might lose the chance to drive a vehicle, have a loss of freedom, or lose your job. Getting behind the wheel while using alcohol or drugs means you risk fines, jail times, and the death or injury of others.
Serving Severna Park, MD, our law firm offers a broad range of services to ensure you get the legal help you require.
You Require Legal Representation from an Experienced MD DUI/DWI Lawyer
Both Max Frizalone and Luke Woods have built their careers as preimer DUI/DWI defense lawyers. They have secured not guilty verdicts after trials in counties across Maryland.
Consulting an expert DUI lawyer is one of the most important things you can do if you've been charged.
What's a DWI or DUI in Maryland or Virginia?
Every state in the nation has set legal limits for drunk driving offenses. In Maryland, 0.8 percent BAC (blood alcohol content) level is the "legal limit". Maryland treats DUI, or driving under the influence differently than DWI, or Driving while impaired.
Often times a person might not feel the effects of alcohol, but their BAC levels might surpass the legal limit. Each person has a different alcohol tolerance.
In Severna Park (and throughout Maryland), BAC levels between 0.7 and 0.8 BAC would lead to a rebuttable presumption that a person was impaired. This often generates a DWI charge. This is less serious than a DUI. However, Maryland drivers can be charged with driving while impaired with lower BACs.
Hiring a MD DUI lawyer serving Severna Park is the first step to help you get the best possible outcome.
DUIs can have far-reaching consequences, such as:
Fines

License suspension and revocation

Jail

Community service

Home detention

Ignition interlock devices

Mandatory alcohol and drug classes

Civil prosecution for property damage

Court fees and costs

Inability to get auto insurance

Increased insurance premiums
Penalties Included
If you've been charged with drunk driving in Severna Park, MD, you might face these penalties: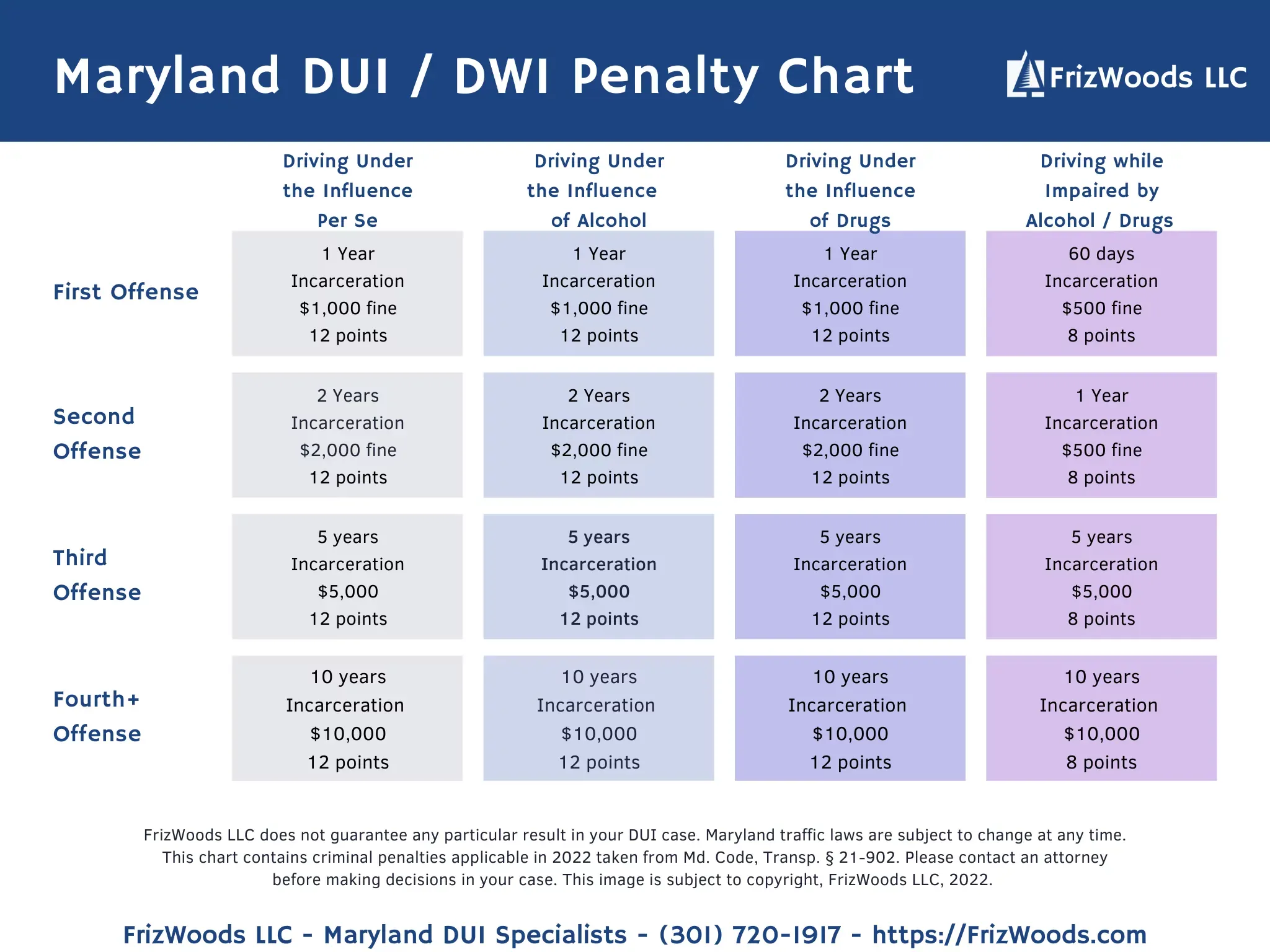 First Offenses
A fine of up to $1,000

Jail time of up to one year

At least a six-month suspension of the driver's license
Second Offenses
A fine of up to $2,000

Jail time of up to two years

At least a one-year suspension of the driver's license
The fines and jail time for a DWI are lower, and are highlighted in the chart above.
What Is Implied Consent?
All states have an implied-consent law. When you get a driver's license, you automatically agree to take a breath or blood test if you're stopped by police offers who suspect you of drunk driving.
If you refuse the test, the implied consent law in the state goes into effect, which can lead to stiff penalties assigned to your case.
Penalties for refusing a test
The penalties for not taking a test in Severna Park, MD, include: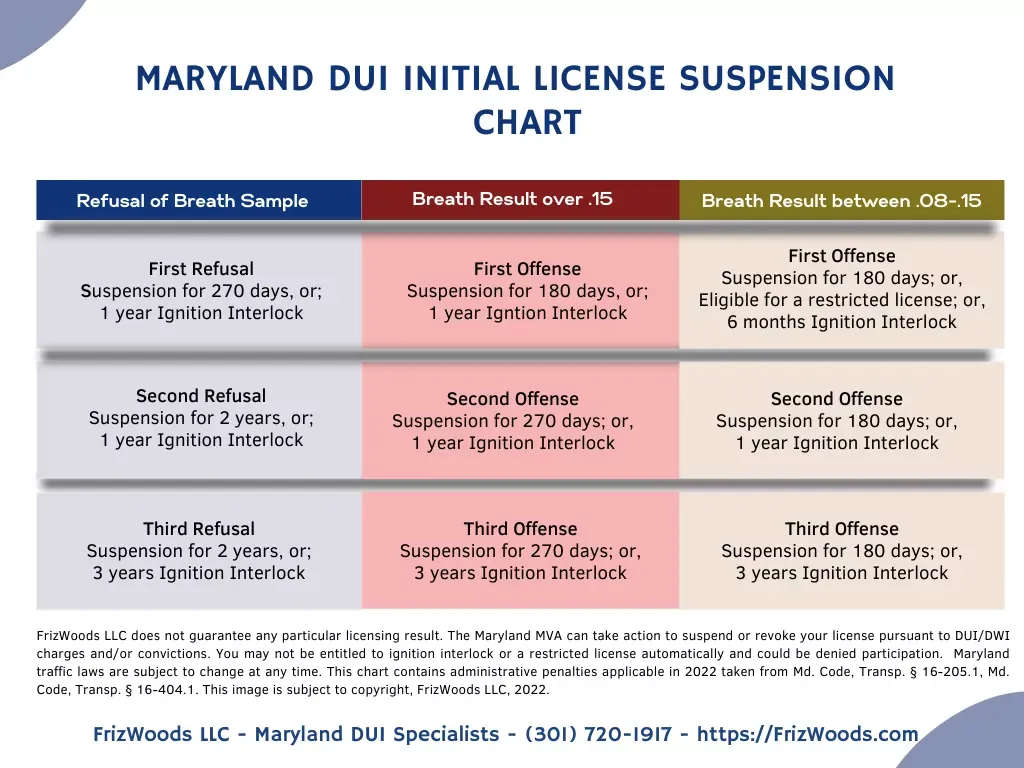 A refusal of a breath or blood test in Maryland can be used against you, even if the state has no proof that the BAC levels were over the legal limit. Having said that, our attorneys can defend DUI or DWI charges with - or without a breath or blood test.
Getting arrested can be a confusing time. If, in that moment, you refuse the a chemical breath test, hope isn't lost. An attorney serving Severna Park, MD, can assist.
With our combined experience, we can help you fight those strict penalties imposed by refusing to take a chemical test, and represent you at a MVA hearing regarding your license.
Field Sobriety Tests
When you get pulled over for drunk driving in Severna Park, Maryland, the police officer is likely to ask you to take a field sobriety test. There are three approved by the NHTSA (National Highway Traffic Safety Administration). These include:
HGN (Horizontal Gaze Nystagmus) test - This helps to expose an involuntary jerking of your eye while tracking an object, such as a finger or pen.

Walk-and-turn test - You're instructed to walk in a straight line for nine steps, touching heel to toe. Then, turn with your lead foot planted and do it again in the opposite direction.

One-leg stand test - An officer asks you to stand on one leg while raising the other six inches from the ground. Hold the pose and count to 30.
A field sobriety test in Severna Park, MD, is voluntary and can be refused (politely). There's no penalty for not taking one.
You may still get arrested without one. Therefore, you require a legal team of MD DUI lawyers to help you.
Call our Severna Park, MD, law office to get started.
Frizwoods LLC - Your Criminal Defense Attorney
The DUI/DWI lawyers at FrizWoods have years of experience in criminal defense cases. An attorney can defend you if you've been charged with drunk driving or driving under the influence. They can challenge the State's evidence at a Judge or Jury trial
With our outstanding lawyers, your case is fully investigated, and all of your options are explained well in advance of Court.
Mistakes often happen with field sobriety tests and breath tests, and we can challenge those in court. You need an attorney who has been serving Severna Park, MD, for years, and we have you covered!
Our practice areas are limited to criminal law, we do not take personal injury cases or family law matters. Choose the attorneys at FrizWoods who have been serving Severna Park, MD, to protect the rights of everyone.
Request a free consultation today!
Why Hire Us
Our firm consists of DUI experts, with experience as former prosecutors, and public defenders. Our law firm has you covered. Here are some of the reasons to choose FrizWoods:
Our skilled DUI/DWI lawyers use aggressive tactics and have passion for what we do.

Our law practice offers specializes in drunk driving cases - we don't dabble in other areas of law like personal injury.

We are super lawyers who focus on professional achievement at each turn.

Our attorneys have extensive knowledge and have been serving Severna Park, MD, for many years.

We offer free consultations, 24/7.
Request a Free Consultation from Our Law Office in Severna Park.
The consequences of a drunk driving conviction affect people for years to come. Don't settle for less than quality Anne Arundel County DUI/DWI lawyers who are on your side each step of the way.
Our team has been practicing law and serving Severna Park, MD, since our firm's inception. We only focus on criminal defense, we will never spend our day litigating personal injury or other cases.
Are you facing a driving while intoxicated charge in Severna Park, Maryland? It's time to call an attorney who cares. Request a free consultation by calling us today.