Charles County DUI Lawyer
Driving under the influence, which is known as a DUI, is a serious offense in Charles County. Anyone found guilty faces a number of consequences, including the revocation of their driving license, substantial fines, and even a prison sentence. Driving while impaired, is a lesser criminal driving offense, although it carries a potential for jail as well.
The State of Maryland sets the DUI regulations in Charles County, which can be complex. As a result, anyone convicted of a DUI in Charles County will need a reliable DUI attorney on their side.
If you are facing these charges in MD Charles County, contact Frizwoods Criminal Defense immediately to ensure that your legal rights are protected. Get in touch with us today to book a free consultation and case review!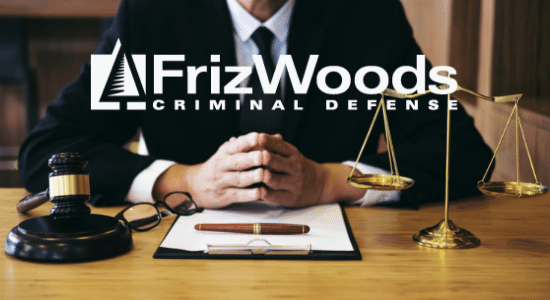 What Is a DUI?
Driving under the influence is the act of operating, or attempting to operate, a motor vehicle while under the influence of alcohol or narcotics.
These substances can seriously impair your judgment when traveling on the road, endangering you, your passengers, and the occupants of other cars on the road. Because Maryland has strong DUI regulations, DUI charges in Charles County are taken very seriously. You should have approximately four to eight weeks before your case will go to trial.
A first-time DUI violation carries a maximum sentence of one year in jail. You'll need someone who is well-versed in criminal law to represent you in court.
First-time offenders are typically able to avoid a jail sentence. However, in order to achieve the best possible result, it is necessary to hire an experienced DUI attorney who knows how the local criminal justice system works.
Frizwood Criminal Defense can assist you with repeat offenses fighting your charges even if you are facing second- or third-time DUI/DWI offenses, so get in touch with a Charles County DUI lawyer today to begin building your defense strategy.
Maryland DUI Penalties
The acceptable blood alcohol level in Maryland is 0.08 percent. Anyone operating a motor vehicle with a blood alcohol of 0.08 percent or higher can be found guilty of driving under the influence per se. Drivers may also have their driving privileges revoked.
Here are the penalties that DUI offenders could face in Charles County, Southern Maryland, and other parts of Maryland: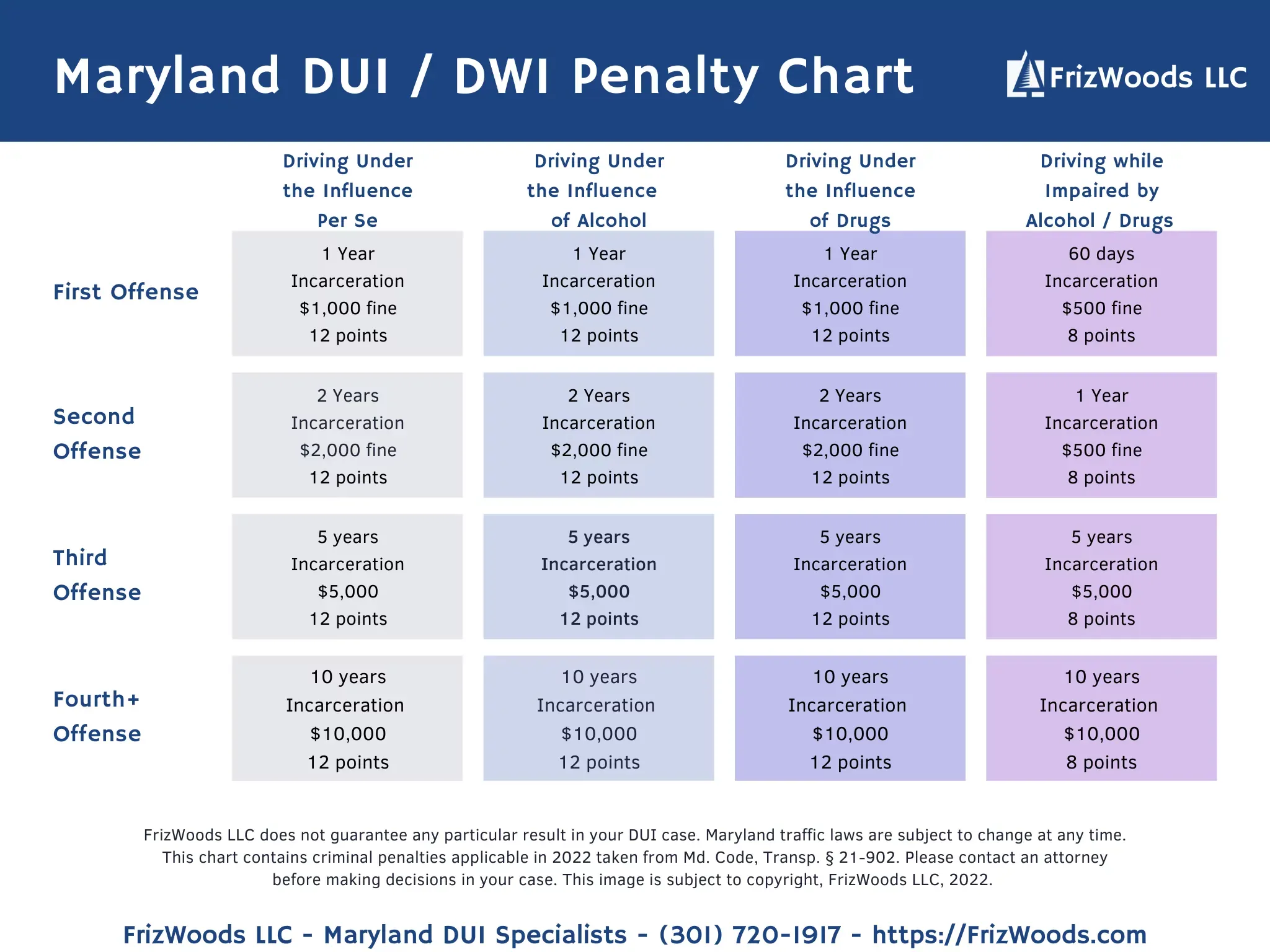 A First-time DUI Conviction in Charles County, MD
According to Maryland law, drivers who have no previous history of DUI offenses may face jail time of up to one year and a hefty fine of up to $1,000.
Additionally, first-time offenders could also have their driver's license suspended for a maximum of six months.
As mentioned before, drivers may avoid jail time for their first offense. However, it is essential to contact a Charles County DUI lawyer as soon as possible.
A first offense that involved driving under the influence with a minor present could result in a two-year jail sentence and a fine of up to $2,000.
Subsequent Offenses
The second time a police officer pulls you over for driving under the influence, you may not be able to avoid jail time.
Getting into a car accident while inebriated, getting higher readings on a breathalyzer test, and having a history of previous drunk driving offenses in Maryland or other states raise your chances of being incarcerated.
License suspension periods increase with subsequent offenses, so it could be years before you can enjoy your driving privileges again after being caught driving under the influence more than once.
In these cases, an experienced DUI lawyer may be able to have your charges reduced, so be sure to contact us as soon as possible, so we can get started building your defense.
Building Your Defense Strategy
When you hire a Charles County DUI attorney, you will be guided through the DUI process and be told what you can expect. A DUI lawyer will also help you create a tailor-made defense strategy, taking into consideration any mitigating factors.
Your lawyer will investigate law enforcement's methods to determine whether you were driving under the influence. If a police officer pulled you over for an invalid reason, it could result in your case being thrown out.
Furthermore, field sobriety tests are often inaccurate, and labs can make mistakes when testing your blood sample, which can also work in your favor.
Additionally, if a law enforcement officer obtains your blood sample without a warrant, the results of the blood test can be thrown out, and the charges dropped. A lawyer may also request a [probation before judgment (PBJ)](https://frizwoods.com/blog/dui-pbj-maryland] in negotiations with the prosecution to lessen your penalty or avoid conviction altogether.
What Is Probation Before Judgment?
Probation before judgment refers to an offender being put on probation before receiving a judgment. This indicates that the person has not been proven guilty of the offense they were accused of.
Drivers facing DUI allegations in Maryland must also take the necessary procedures to qualify for a PBJ. Before a trial, offenders will need to complete substance abuse courses, use ignition interlock devices, perform community service, and more.
Contact your DUI lawyer to find out more about how to apply for PBJ.
The Services Frizwoods Charles County DUI Lawyers Offer
Frizwoods Criminal Defense is home to two renowned Charles County DUI lawyers with years of experience fighting DUI cases.
We dedicate our time and efforts toward ensuring that our clients get the best possible outcome from their cases. Here is a list of the services we provide:
Reasons to Choose Us
At this point, you may be wondering why you should trust us to handle your DUI charge. Here are a few reasons why Frizwoods Law Firm stands out from other firms:
We pride ourselves on maintaining a positive attorney-client relationship with all our clients
You can get expert advice from a Charles County DUI attorney who is well acquainted with Maryland statutes and how they apply in one of Maryland's fastest-growing counties
Our law offices offer new clients a free no-obligation consultation and case review
We also have a good understanding of traffic law requirements, which is a must for drunk driving cases
Get in Touch with a Charles County DUI Attorney Today!
Even if your case seems hopeless, there may still be a way for you to lower your charges and avoid a prison sentence. Whether you are a first-time or repeat offender, we will fight tirelessly to ensure that you get the best possible outcome.
We know what Maryland law requires and can help you build a strong defense. Contact us today by dialing 1(877)343-1031 for a free consultation and case evaluation!