Calvert County Felony Lawyer
Have you been charged with a felony that you did not commit? If so, having a top-of-the-range Calvert County Felony Lawyer at your side will ensure that your rights as a citizen of Calvert County have been safeguarded at all times throughout your proceedings towards the best possible legal outcome.
Whether you are facing minor charges or a prison sentence for a felony that is lengthy, the experienced criminal defense attorneys at FrizWoods can help you. Felony cases in Maryland are high stakes, and with the wrong lawyer on your side you could end up with a permanent criminal record that will have dire consequences in the other aspects of your life, including your ability to find a job, take out loans, seek educational opportunities, seek driving privileges, and apply for necessary security clearances.
Feeling overwhelmed, even panicked, and unsure of the steps you should take next, your rights will be impacted as soon as you are arrested on a felony charge in Calvert County. It is crucial to avoid missteps that would inevitably have serious consequences for your future at this stage. It is crucial, in short, to partner with a seasoned criminal defense attorney.
The experienced criminal defense lawyers from FrizWoods Criminal Defense can advise you every step of the way if you are facing felony charges in Calvert County. We will build the best possible defense strategy for your case, with the ultimate goal of swaying a jury in your favor, or having a Judge suppress evidence in your favor. Call today for a free consultation with a criminal defense attorney who will analyze your case.
Felony cases we can help with
The skilled criminal defense lawyers from FrizWoods can work to defend you as your felony case is brought before Calvert County District Court or Calvert County Circuit Court. Examples of criminal cases our team of attorneys can help with are:
Felony Charges in Anne Arundel County: Will You Face Prison or Jail Time?
Maryland takes felony charges extremely seriously, and unless you have the best legal representation, you could easily to face a lengthy prison sentence if you are convicted on felony charges. Felony sentencing decisions in Calvert County are made in line with Maryland's Sentencing Guidelines. Should you receive a sentence of 18 months or upward, this sentence will typically be served at a State Prison in Maryland. The criminal justice system was not designed to be simple, thus it is important to speak with a criminal defense law firm that has had felony cases in anne arundel county md.
Following the conclusion of an active jail or prison sentence, supervised probation is also common practice in Maryland.
Defense Strategies for Felony Charges in Anne Arundel County, Maryland
If you have been accused of a felony offense in Calvert County, or a loved one has, you will be wondering what the best defense strategy is. That depends entirely on the nature and circumstances surrounding the particular felony case, which will need to be evaluated by a criminal defense lawyer. Some common defenses to felony criminal charges may include:
Suppression of statements under Miranda
Suppression of evidence under the Fourth Amendment
Disqualification of State's expert witnesses
Suppression of identification as suggestive
Violation of speedy trial rights by the State
Independent investigations by Defense attorneys
With a lot at stake for you, it is imperative to hire a Calvert County Felony Lawyer to represent you and your case in Court, where they use their skills to utilize defenses to prevent certain evidence from being used against you in Court or to minimize your overall exposure.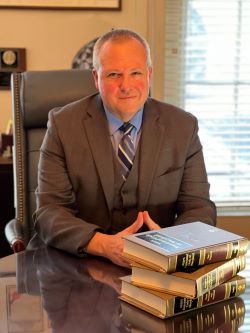 Luke Woods is a veteran trial attorney with over two decades of purely criminal defense experience. Luke has experience defending clients in felony cases of all varieties. Luke has earned acquittals, dismissals, and not guilty jury verdicts on countless felony cases during his career as a private attorney. Luke will leverage his knowledge of felony cases to ensure your case is dismissed before indictment. At any given time Luke has active Calvert county criminal cases in circuit court, and even more in District Court. The most important thing you can do if charged with a felony is call hire experienced legal counsel like Luke Woods who knows the ins and outs of the criminal justice system. Call today and speak with him directly for a free case analysis.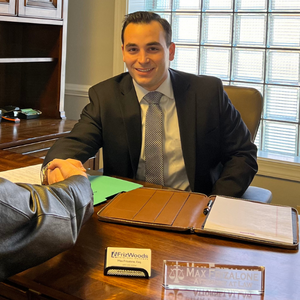 Max Frizalone accrued felony trial experience in his prior roles as a prosecutor, public defender, and private attorney. Max has defended felony cases in Circuit Courts throughout Maryland. Max and Luke have worked together to have high profile cases dismissed in the past, including a first degree rape. Max is unafraid of taking a case to trial, which has earned him the respect of numerous States Attorney's Offices, and judges alike. Max and Luke make a great team, having previously collaborated on charges to include first-degree murder.
The FrizWoods Criminal Defense team offers free case analysis consultations to those who are facing felony charges in Calvert County, Maryland. Contact us today to speak with an experienced criminal defense attorney. All of our consultations are a free consultation with a dedicated criminal defense lawyer who will know Maryland law and how to handle Calvert county criminal cases.
When to Get in Touch with Calvert County Felony Lawyers
If you have reason to believe that you are under criminal investigation, or you have been arrested, contacting a Calvert County Felony Lawyer to begin building up a defense strategy should be the first thing you do. The criminal defense attorneys with FrizWoods are not new to the game and have dealt with many serious felony allegations in the past; thus, they have experience in representing clients who were faced with similar or even identical charges. Take advantage of their expertise by contacting them on the 24/7 call line for a free case analysis.
Free Consultation
Locations