Published on 2/19/2022, 6:21:00 AM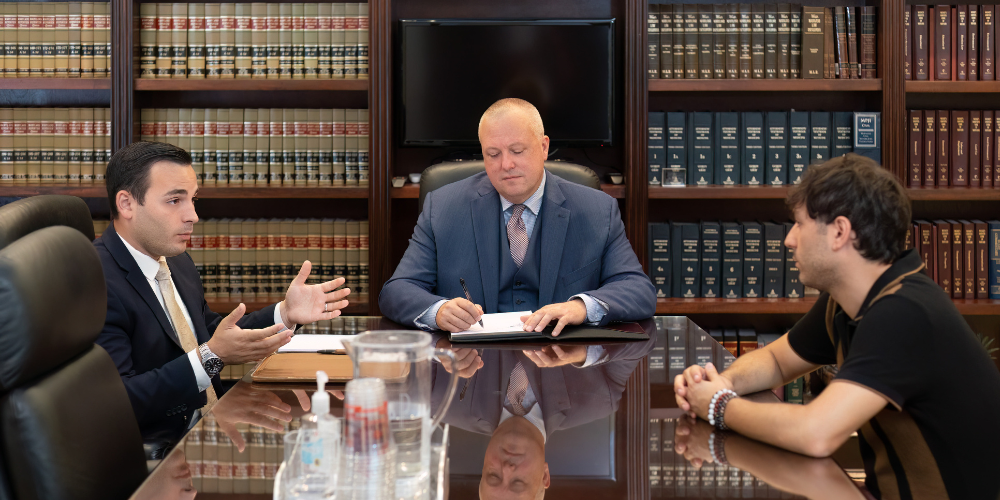 How do I find the Best Maryland Criminal Lawyer after being accused of a crime in MD?
Do you have a criminal case you'd like to discuss with a criminal defense attorney? Call us today for a free consultation
How do I find a qualified criminal defense attorney?
It's no surprise that one of the highest searched terms for finding a lawyer is "best". How do you really find the perfect Maryland criminal lawyer? The answer to that question is subjective. Maryland criminal defense attorneys come in all different varieties, with countless different specialties.
The best Montgomery DUI lawyer might be the worst Baltimore City Attempted Murder Attorney. Generally speaking, when looking for the best Maryland criminal defense attorney for your case - you should look to their experience with the specific type of case you have, and their knowledge of the local jurisdiction that your case will be prosecuted in.
How to evaluate the "best maryland criminal lawyer"
Super lawyers, Avvo Choice Award, google reviews, martindale nolo... What does it all mean? Lawyers are ranked by countless "organizations" and many sport flashy "awards" which might not amount to a whole lot of value. Customer reviews are certainly more trustworthy than "awards", but does 50 happy customers mean more than 400? These are questions many people ask before hiring their criminal defense attorney. Everyone is looking for the top criminal defense lawyer, but do you want a criminal defense attorney who spends more time on self promotion than your case? Does it matter if Super Lawyers gave them a 2019 rising star award? What does that even mean in criminal cases? Honestly - not much.
Generally speaking, the best maryland criminal lawyer is one who is considered an authority on their subject. Perhaps they've written a treatise on a highly technical criminal offense like DUI in Maryland, or they've been consulted by the authors of one of Maryland's many legal textbooks. They may have spent years in Public Service, as a Public Defender, Assistant States Attorney, or Federal Prosecutor. They might hold bar licenses from multiple jurisdictions within the United States. Most importantly, they are going to know the criminal justice system in Maryland.
The "best" criminal lawyers should offer a free consultation, use this opportunity to feel out their experience with criminal charges like yours.
What results should I look for from Maryland Criminal Defense Attorneys?
When consulting a top criminal defense lawyer, you should be looking for proof that they are in fact an experienced criminal defense attorney. Ask them about other criminal defense cases they've handled in the Maryland County where your case is.
Ask them how many cases like yours they've worked on. These are questions that an attorney should be honest about. If they've never handled a drug case, they should be honest about that. If you get a sense that someone is dodging an answer to try and come off as an experienced criminal defense attorney without qualifying their criminal defense experience - move on from that "super lawyer".
Trial Experience with Criminal Charges
A maryland criminal attorney who has trial experience may be the best criminal defense attorney for your case. Most Maryland criminal cases do not go to trial, but the reasoning as to why isn't as depressing. Having a strong Maryland criminal defense lawyer in your corner is likely to make the States Attorney consider a better plea offer in your case.
Even just the threat of a trial often moves the needle in even the most serious criminal cases in Maryland. Your lawyer might have trial experience as a States Attorney, or Public Defender that could be relevant to your case. Criminal defense case types often involve technicalities that one can learn over a career of trial work in criminal defense as every crime requires differnt proof.
Ask the criminal defense attorney you are consulting with about his or her trial experience. If you don't get a straight answer - move on from that "Avvo Choice Winner".
Practice Areas should be well defined.
During a free consultation, ask your attorney what his or her main practice areas are. If he or she knows the area that your case is in, they should be able to identify and explain common legal issues in cases like yours. In a drug distribution case, your attorney should be able to speak at length about the fourth amendment's implications on a potential search of your home or vehicle.
In a domestic violence case, a criminal defense attorney should be able to discuss common defenses to assault, like self defense. In a white collar crimes case, a criminal defense attorney should be able to identify what specific financial crimes you could be charged with, and how they might be defended. In a DUI or DWI case a criminal defense lawyer should be able to explain defenses related to field sobriety testing, or probable cause for a roadside stop.
The power of who you know for your case.
Sometimes the power of who you know is the most influential reason to hire a specific criminal lawyer. Don't be afraid to ask a lawyer if they know of the local Judges that might be sitting on your case. Their knowledge of how a certain Maryland Judge might handle a potential sentencing in a case like yours could make them or their team the perfect maryland criminal lawyers for your case.
Their knoweldge might also include knowledge of the local [speciality courts] like a drug court or veteran's court which could divert your case away from traditional prosecution.
Whether you are looking for drunk driving defense, or legal representation in an armed robbery case, you're going to want to have a law firm in your corner who has an idea of which what way the Judge you are assigned will lean on certain cases.
Check Office Locations in Maryland
If you're hiring an attorney and want to know how much experience they have locally, the first place to look is their office location or office locations. Often, criminal defense attorneys will have office locations near or in the jurisdictions where they practice. If you're hiring an attorney for a Prince George's County DUI, and your lawyer's only office is in Frederick County, you might have a problem.
If you're looking for the best lawyer for your criminal legal issue, you may want to look outside of family law firms, or personal injury practitioners who aren't as familiar with criminal courts. Choose a firm that focuses on criminal defense, and employs criminal defense attorneys across Maryland.
Look for membership in a local bar organization or lawyers group
Another easy way to identify your criminal defense lawyer's knowledge of a case type of jurisdiction is to check if they are a member of the local bar organization. If you're hiring someone in Baltimore md, look for membership with the Baltimore city or Baltimore County bar association. During a free consultation, ask an attorney how they participate in the bar, and if they are a member of any panels. Maryland criminal defense attorneys should be able to tell you all about their contribution to the legal communities they practice in.
Check their website
In 2023, a website says a lot about a firm. If it appears to be covered with promises or guarantees, then you may want to avoid those law firms. While some lawyers may choose to boast about their case results, most will display their former client's reviews proudly.
If their website appears to be unkept, or out of date, that may signal your lawyer isn't as tech savvy as they might need to be to defend you. In today's criminal justice system, most jurisdictions in Maryland employ electronic filing, and electronic discovery production. If your lawyer is relying upon others to handle all of his/her electronics, then they may not be able to sufficiently handle a while collar crimes case that could have hundreds of pages of evidence.
Has your lawyer had a grievance?
Attorney grievances are no joke. Maryland's Attorney Grievance Commission is responsible for seeking sanctions against lawyers who do not follow the ethical standards required of lawyers.
They regularly publish lists of lawyers they sanction. If you find your attorney being sanctioned, their conduct might be a deciding factor on hiring a lawyer for your case.
Speak with one of the Maryland Criminal Defense Attorneys with FrizWoods today
FrizWoods is a full service criminal law firm with offices in Prince George's County, Howard County, and Anne Arundel County. Max Frizalone and Luke Woods have built their reputation as criminal law experts who help clients throughout MD get through the most diffifcult times in their lives. Being charged with a crime can dereail your entire life. Don't trust your case to an amateur, call FrizWoods today.
Free Consultation
Locations