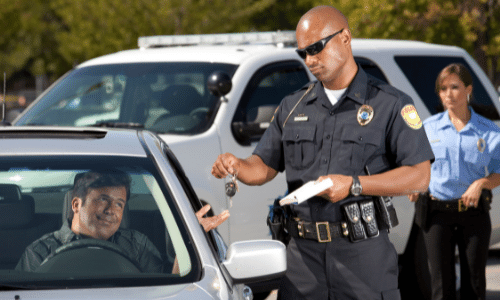 Driving without a license in Maryland | Learn the laws for Maryland Drivers
Driving without a license in Maryland is a serious offense, and it's important for all drivers to understand the potential consequences. If you are caught driving without a valid driver's license, you could face a criminal misdemeanor, fines, and even jail time. This article will discuss the penalties associated with unlicensed driving in Maryland and provide information on how to protect your rights and avoid a Maryland traffic offense.
Although it may seem like a petty charge, driving without a license in Maryland is a jailable offense. You must appear in Court on your driving without a license charge. Failure to do so could result in the issuance of a bench warrant. If you were charged by a Police Officer with a driving without a license charge, it's imperative that you speak with an attorney ahead of Court. Because the charge is jailable, you will be prosecuted by a professional prosecutor. This is not a payable offense in Maryland, you cannot pre-pay a fine and skip Court.
What's the penalty for driving without a license?
Driving or attempting to drive without a license in Maryland carries a maximum penalty of 60 days in jail, a potential $500 fine, and 5 points on your license. Points on your license can trigger a suspension, requirement that you partake in a driver improvement program, and a hike in your insurance premiums.
How do I keep points off my license if I've been caught?
Judges across Maryland often try to help drivers get valid and stay valid by offering what is called a "Probation before Judgement". This disposition strikes the guilty verdict and keeps the points off your license. A qualified driving without a license lawyer in Maryland can help you receive a PBJ on your case if you are convicted.
How can I avoid the penalty of jail for driving without a license?
Generally, Judges in Maryland do not issue jail sentences on driving without a license charges absent aggravating factors. Some of these include:
PRIOR DRIVING WITHOUT A LICENSE CONVICTIONS
Accident cases
A high number of previous traffic citations in your record
What if I have an out-of-state driver's license instead of a Maryland License?
Out of State drivers may drive freely in the State of Maryland, so long as their home state license is valid. If you've recently moved to Maryland, you have sixty (60) days to get a Maryland License.
My driver's license was valid!
Often licenses are suspended or revoked without proper notice to a Defendant. This is a valid Defense to many license issue related traffic citations that can be brought out in Court. Driving without a license charges are often brought in combination with driving suspended charges. An experienced Maryland traffic citation attorney will be able to analyze your license and create a proper trial strategy for your case.
It's important to understand your rights
As a driver in Maryland, it's essential to understand the consequences of driving without a license. The penalties for this offense can range from fines to jail time, and it's considered a criminal misdemeanor.
To avoid a Maryland traffic offense and protect your rights, it's crucial to consult with an experienced attorney. Our law firm offers free consultations and is committed to providing the best legal representation for your case. Whether you're facing penalties for driving without a license, suspended license, or other traffic offenses, we're here to help you navigate the legal process and ensure the best possible outcome for your case.
Contact a lawyer for a free consultation
We pride ourselves on being one of Maryland's most accessible law firms. Our 24 hour attorney line is always open, give us a call and be directly connected with Max Frizalone or Luke Woods. We are more than happy to give you a free consultation and case review. Don't wait until the last minute to find the right attorney for your case. Call us or fill out one of our contact forms to request an appointment today.
We are providing in-person, virtual, and hybrid consultations for new clients.
We handle cases throughout Maryland
If you are charged with driving without a license in Glen Burnie, Howard County, Montgomery County, or other parts of Maryland, don't hesitate to reach out to our knowledgeable criminal defense team.
We have experience handling cases involving unlicensed driving, licensing issues, and other traffic offenses. Our goal is to provide the highest quality legal representation to our clients, and we will work tirelessly to achieve the best possible outcome for your case. Contact us today for a free consultation and let us help you protect your rights and your driver's license.