Calvert County DUI Lawyer
Driving under the Influence is a serious offense to be charged with in Calvert County. Those found guilty of a DUI charge are presented a list of penalties ranging from costly fines to a confiscated driver's license and even time in jail. Calvert County DUI laws are statutes set by Maryland and are often intricate to understand. Thus, it is necessary for anyone in Southern Maryland charged with DUI to contact a Calvert County DUI Attorney who has practiced in the county.
The lawyers at FrizWoods have familiarity in court operations, the navigation of legal proceedings, and how to break down the State's case before one of Calvert County's two sitting judges. Thus, having an experienced attorney will allow for the best approach to your case and help build a defense argument. Experienced criminal defense lawyers can negotiate with prosecutors, when it's in your bests interests to do so, to reduce penalties and help avoid conviction altogether through a probation before judgement.. After a first-time DUI or first time dwi arrest, it's important to speak with an attorney as soon as possible.
Southern Maryland DUI Lawyers. Experienced in the County
FrizWoods brings together two of the best Maryland DWI Attorneys, Max Frizalone and Luke Woods. Max and Luke will provide you a free consultation on your case in Calvert County MD.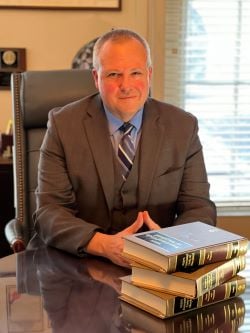 Luke Woods is a veteran trial attorney with over two decades of purely criminal defense experience. Luke held numerous roles in the Army Judge Advocate General's Corps (Army JAGS), and thereafter served as a District Public Defender for Calvert County for over a decade. Luke has tried hundreds of criminal traffic offenses in Calvert County, including countless DUI cases. Luke practices in both Circuit Court and District Courts across Maryland and is a locally recognized by both Calvert County Judges and prosecutors alike. Luke has secured not guilty verdicts, acquittals, and dismissals for a wide array of cases to include DUI cases in jury trials and bench trials. Luke is a highly experienced Maryland DUI lawyer and Maryland criminal defense lawyer, call today and speak with him directly.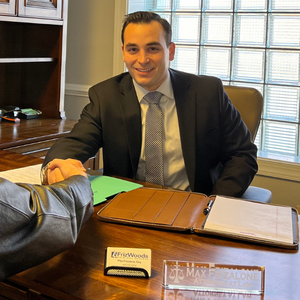 Max Frizalone has built a solid reputation as a DUI specialist having tried cases in nearly every jurisdiction in the State of Maryland. Max has secured acquittals both by jury and by Judge in numerous counties as both a private attorney and during his tenure as a Public Defender. Max Frizalone understands the intricacies of DUI cases, and defends every client with the same tenacity he brings to each consultation. Max is a former Assistant States Attorney with Prince George's County, and Public Defender in Saint Mary's County. Max possesses the unique ability as a Maryland DUI lawyer to identify strong legal defenses that may exist within a case, which many times result in a reduction or dismissal of charges. Max Frizalone has handled allegations of driving under the influence of alcohol, driving under the influence of drugs, and vehicular manslaughter resulting from driving under the influence. Max is unafraid of taking a case to a jury trial trial, which has earned him the respect of numerous States Attorney's Offices, and Southern Maryland judges alike.
What DUI or DWI charges could I receive?
You could be facing one of five different DUI/DWI charges in Calvert County, under Section 21-902 of the Transportation article of the Maryland Code:
Driving under the influence of alcohol perse (for cases involving a breath test)

Driving under the influence of alcohol

Driving while impaired by alcohol

Driving while too far impaired by drugs and/or alcohol

Driving while under the influence of a controlled dangerous substance
Being involved in a motor vehicle accident while under the influence, having higher readings on your breathalyzer test, and having prior DUI or DWI convictions in Maryland, or elsewhere are all factors that increase your risk of incarceration.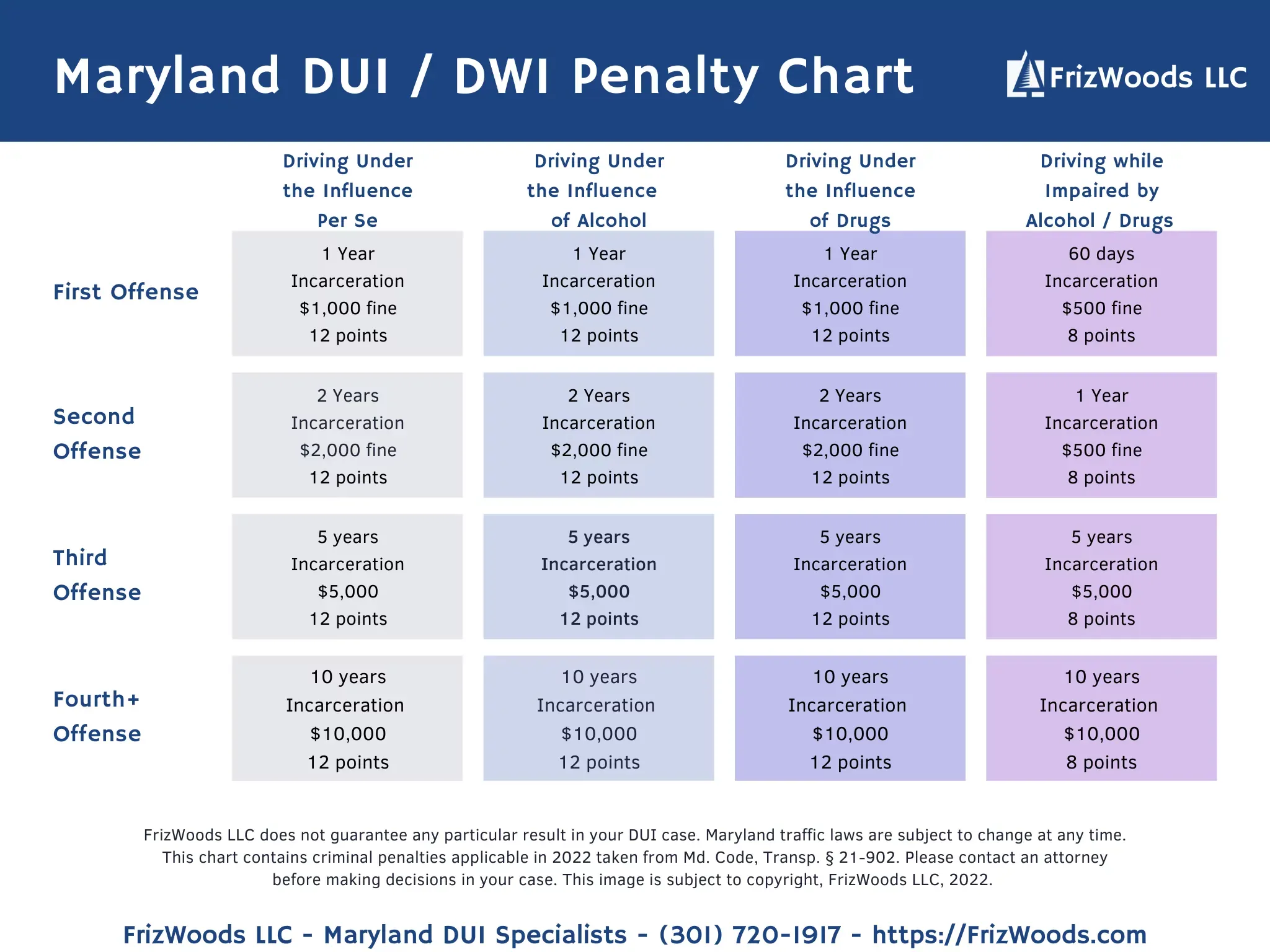 Calvert County's DUI Enforcement
The penalties for being charged with DUI are very serious, the Calvert County State's Attorney's Office often asks for incarceration in DUI cases. It, therefore, proves beneficial to have a dwi attorney who knows Calvert well, and has dealt with prior cases of DUI/DWI in Calvert County.
If you are a first-time DUI offender in Calvert County, you may be able to avoid a conviction and points on your license, even if the State has a strong case against you. By hiring an attorney, engaging in programs for substance abuse, and engaging the MVA to correct your license suspension, you can mitigate a potential sentence by the Court. Even if you have a second offense or third offense dui, we can help with subsequent offender dui cases as well.
What's going to happen to my license?
DUI and DWI convictions carry serious driver's licensing penalties, including a possible license suspension. Losing your driving privileges can be serious, and is a part of the consideration in every drunk driving defense case. The Maryland Motor Vehicle Administration controls license suspensions relating to DUI and DWI breath tests, and DUI and DWI convictions. Some driver's license suspensions in md dui cases are automatic based on initial breath testing results. You may need to participate in ignition interlock as a result of a DUI or DWI charge. An administrative hearing, or MVA hearings might be necessary to seek restricted licensing in your case. Maryland DWI and Maryland DUI initial driver's license penalties are shown in the chart below: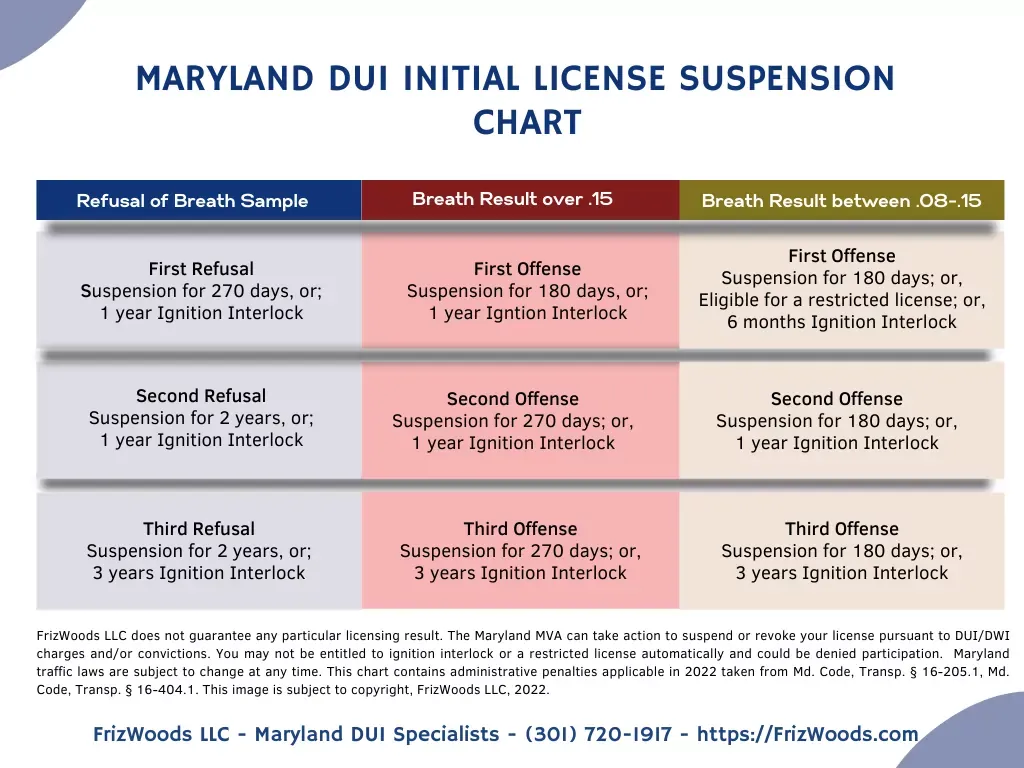 Defending my Calvert DUI
Although it is technically possible to defend yourself in a DUI matter, hiring an experienced Calvert County DWI Lawyer to represent you in court is one of the best and simplest ways to have your rights protected as a defendant the entire time. Failure to protect your rights could result in a DUI conviction. Examples of common rights a person has in a DUI case include:
1. The Right to remain Silent
This right begins even before one is charged. Although you should always be polite to a police officer, you don't need to disclose if you have indulged in the act of drinking, nor do you need to tell them the amount of alcohol you have had. Remaining silent is often in a person's best interest, and their assertion of the right to do so cannot be used against them by the State in a DUI case.
2. Preliminary and Field Sobriety Breath Tests
At the scene of a traffic stop, a driver is allowed to refuse field sobriety testing or a preliminary breath test. If an Officer has reasonable grounds to request an intoximeter test, refusing that test could result in license suspension, but it is also voluntary. By refusing an intoximeter and field sobriety testing, you limit potential evidence the State may have against you. If you agree to the test, a qualified DUI lawyer should be able to challenge the accuracy of that breath test in court.
3. The Right to a Lawyer
If you have been arrested for a DUI charge within Calvert County, you have the right to a lawyer; any law enforcement officer that refuses to allow contact with an attorney can result in a case dismissal.
4. Challenging a Police Officer's narrative
Mistakes are made by everyone, even those of legal authority; as such, statements made by an officer or witness may contain flaws and inaccuracies and should thus, possess the right to be challenged in court. A qualified criminal defense attorney will seek to impeach an officer or witness with their conflicting out-of-court statements. Many Calvert County DUI cases involve body worn cameras, which often conflict with Police Officer's reports.
5. Unlawful Stops in Calvert DUI cases
Maryland State Police Officers and Calvert County Sheriffs must have a valid reason to justify pulling over a motor vehicle. Generally, stops in DUI cases come from two sources:
Equipment issues with a motor vehicle (headlights, tail lights, tag lights)

Moving violations (speed, swerving, failing to stop at stop signs)
These reasons can be challenged in Court. The DWI attorneys with FrizWoods have had success disputing legal grounds for stops in DUI and DWI cases. Hiring a dwi attorney will ensure that your rights are protected. We can identify defenses like these in Calvert county md cases during a free consultation.
Contact a Calvert County DUI lawyer
There are different approaches to defense a skilled DWI attorney will consider before taking your drunk driving charge to court. While different aggravating factors may influence the potential for incarceration, you don't know the severity of your charge until you have contacted a DWI lawyer -- one who possesses the understanding of Maryland's complex law and acknowledges the importance of avoiding a tarnished reputation and blemished record.
If you or someone close to you is facing a charge resulting from a DUI, contact Calvert County DUI Lawyers from FrizWoods for a free consultation. They offer 24/7 service and will take time out to not only explain your rights but provide insight on possible options that may endure in your case.
Speak with a Calvert County Criminal Defense Attorney
Facing a charge in Calvert County for a drunk driving offense may be the scariest thing you have ever experienced. Understanding the gravity of the charges, you will be aware that hiring a skilled local DUI attorney is the only way forward. Our firm offers free consultations 24/7 - call our attorney-client line now to discuss your case regarding Calvert County or Charles County county driving. All of our calls are confidential - regardless of what sensitive information is discussed. Our law firm is open 24/7, and we will provide a free consultation with a dwi attorney for your md dui.
Areas we serve
20610 Barstow, 20615 Broomes Island, 20629 Dowell, 20639 Huntingtown, 20657 Lusby, 20676 Port Republic, 20678 Dares Beach, 20678 Prince Frederick, 20685 St. Leonard, 20688 Solomons, 20689 Sunderland, 20714 North Beach, 20732 Chesapeake Beach, 20736 Owings, 20754 Dunkirk